FAQ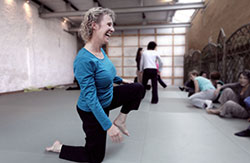 Who was Moshe Feldenkrais?
A scientist and judo master, the founder of the Method.
Read more
What is the Feldenkrais Method?
In essence, the Feldenkrais Method is an approach to learning.
Read more
What are the benefits of doing Feldenkrais?
The benefits range from very concrete physical improvement to intangible and sometimes surprising discoveries.
Read more
How can I find a certified practitioner?
Find a practitioner near you.
Read more
Who can use the Feldenkrais Method?
Children, adults and senior citizens can all learn to improve their functioning – from people with pain from an accident or chronic physical or neurological problem, to those who have no pressing physical problems but would like to improve athletic, musical, theatrical or other skills.
Read more
What is ATM?
Awareness Through Movement is the verbally-directed aspect of the Feldenkrais Method, usually done in groups.
Read more
What is FI?
Functional Integration is the individual aspect of the Method, using touch and few words.
Read more
What is the training required for becoming a certified Feldenkrais practitioner?
The professional training programme covers 800 in-class hours, spread over a 3 or 4 year period. Trainings are certified by an international Feldenkrais certification body.
Read more
Can the Feldenkrais Method replace sport or exercise? >
No. Sports and other forms of exercise each have specific goals
Read more
What is the difference between the Feldenkrais Method and gym exercises?
The goal of gym exercises (stretching and strengthening) is to improve muscle strength
Read more
I have a hernia – can Feldenkrais be risky for me?
No. The Feldenkrais Method is a learning approach,
Read more
Do I need to wear special clothing?
You should wear loose-fitting, comfortable clothing
Read more